Experimental study on melanoma cell ablation by high-voltage nanosecond pulsed electric field
Zhen-hong MA1(

),Zhen LIU1,*(

),Sheng-yong YIN2,Rong-wei MA1,Ke-ping YAN1
1. Institute of Industrial Ecology and Environment, Zhejiang University, Hangzhou 310027, China
2. The First Affiliated Hospital, School of Medicine, Zhejiang University, Hangzhou 310007, China
Abstract
A repetitive high-voltage nanosecond pulsed electric field (RnsPEF) generation system was independently developed based on the spark switch and transmission line transformer (TLT) technology in order to analyze the key impact parameters of the process of malignant tumors ablation by high-voltage nanosecond pulsed electric field (nsPEF). The system can stably generate nanosecond exponential pulse. The experimental results proved the effectivity and controllability of RnsPEF on tumor cells ablation. B16 melanoma cells adherently seeded in six-well plates as the research object to analyze the effects of pulse number, peak voltage, repetition frequency and electrode spacing on tumor cells ablation. Cell counting kit-8 (CCK-8) was applied to measure cell viability of B16 tumor cells suspension in the cuvette after treated by pulses. The experimental results show that the pulsed electric field intensity and injected energy density of the applied RnsPEF play the key roles in determining the ablation effect. The repetition frequency hardly affects the ablation results. The pulsed electric field intensity threshold of RnsPEF ablating B16 melanoma cells is 6.8 kV/cm, and the injected energy density threshold is 11.4 J/cm3, as well as the optimal pulse number is 500 pulses.
Received: 04 June 2020 Published: 30 July 2021
Fund: 国家自然科学基金资助项目(81971768);国家科技重大专项资助项目(2018ZX10301201-006-001);中国博士后科学基金资助项目(2018M642437)
Corresponding Authors: Zhen LIU E-mail: 815093280@qq.com;zliu@zju.edu.cn
高压纳秒脉冲电场消融黑色素瘤细胞实验研究
为了研究高压纳秒脉冲电场(nsPEF)消融恶性肿瘤的关键影响参数,基于火花开关和传输线变压器(TLT)技术,自主研制重频高压纳秒脉冲电场(RnsPEF)发生系统,可以稳定输出纳秒级脉宽的指数脉冲,证实了高压纳秒脉冲电场杀伤肿瘤细胞的效果和可控性. 以贴壁生长于六孔板中B16黑色素瘤细胞为对象,研究脉冲次数、峰值电压、重复频率和电极针对间距对肿瘤细胞消融效果的影响. 以电极杯中B16肿瘤细胞悬液为研究对象,结合CCK-8检测法开展脉冲处理后细胞活性的研究. 结果发现,高压脉冲电场和脉冲能量注入密度是影响纳秒脉冲电场消融肿瘤细胞的关键因素,重复频率对消融效果的影响不大. 结果显示,自制RnsPEF系统消融B16肿瘤细胞的阈值电场强度为6.8 kV/cm,注入能量密度的阈值为11.4 J/cm3和最佳消融次数为500次脉冲.
关键词: 纳秒脉冲电场(nsPEF), 指数脉冲, 火花开关, 传输线变压器(TLT), B16肿瘤细胞, 肿瘤消融, 细胞活性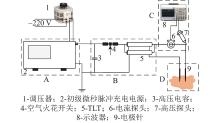 Fig.1
Experimental flow chart for B16 tumor cells ablation in vitro

Fig.2
RnsPEF generation system

Fig.3
Profile of spark switch
Fig.4
Schematic diagram of transmission line transformer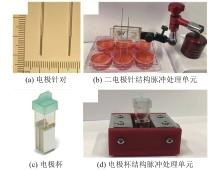 Fig.5
Electrodes and cuvette for pulse processing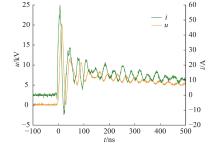 Fig.6
Voltage and current waveforms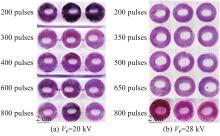 Fig.7
Ablation effect of RnsPEF system under different pulse numbers (repetition frequency is 10 pps, electrodes E[0.5,10,10])
Fig.8
Ablation area of RnsPEF system under different pulse numbers (repetition frequency is 10 pps, electrodes E[0.5,10,10])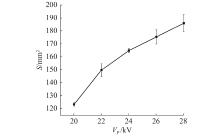 Fig.9
Ablation area of RnsPEF system under different peak voltages (repetition frequency is 10 pps, pulse number is 500 pulses, electrodes E[0.5,10,10])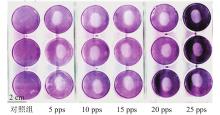 Fig.10
Ablation effect of RnsPEF system under different repetition frequency (peak voltage is 26 kV, pulse number is 500 pulses, electrodes E[1.0,12,10])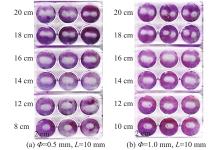 Fig.11
Ablation effect of RnsPEF system under electrodes with different spacings (repetition frequency is 10 pps, peak voltage is 26 kV, pulse number is 500 pulses)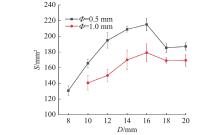 Fig.12
Ablation area of RnsPEF system under electrodes with different spacings (repetition frequency is 10 pps, peak voltage is 26 kV, pulse number is 500 pulses)

Fig.13
Temperature distribution of culture medium after pulse treatment (repetition frequency is 10 pps, peak voltage is 28 kV, pulse number is 800 pulses)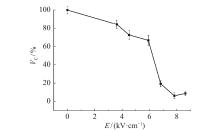 Fig.14
Cell viability of B16 tumor cells under different electric field intensity (repetition frequency is 10 pps, pulse number is 500 pulses)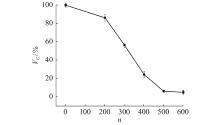 Fig.15
Cell viability of B16 tumor cells under different pulse number (repetition frequency is 10 pps, electric field intensity is 6.8 kV/cm)
[1]

BRAY F, FERLAY J, SOERJOMATARAM I, et al Global cancer statistics 2018: GLOBOCAN estimates of incidence and mortality worldwide for 36 cancers in 185 countries[J]. CA: A Cancer Journal for Clinicians, 2018, 68 (6): 394- 424


doi: 10.3322/caac.21492
[2]

WEAVER J C Electroporation of cells and tissues[J]. IEEE Transactions on Plasma Science, 2000, 28 (1): 24- 33


doi: 10.1109/27.842820
[3]

RUBINSKY B Irreversible electroporation in medicine[J]. Technology in Cancer Research and Treatment, 2016, 6 (4): 255- 260

[4]

ESSER A, SMITH K, GOWRISHANKAR T, et al Towards solid tumor treatment by irreversible electroporation: intrinsic redistribution of fields and currents in tissue[J]. Technology in Cancer Research and Treatment, 2007, 6 (4): 261- 274


doi: 10.1177/153303460700600402
[5]

MIKLAVCIC D, SERSA G, BRECELJ E, et al Electrochemotherapy: technological advancements for efficient electroporation-based treatment of internal tumors[J]. Medical and Biological Engineering and Computing, 2012, 50 (12): 1213- 1225


doi: 10.1007/s11517-012-0991-8
[6]

HABERL S, MIKLAVCIC D, SERSA G, et al Cell membrane electroporation-Part 2: the applications[J]. IEEE Electrical Insulation Magazine, 2013, 29 (1): 29- 37


doi: 10.1109/MEI.2013.6410537
[7]

ZAGER Y, KAIN D, LANDA N, et al Optimization of irreversible electroporation protocols for in-vivo myocardial decellularization[J]. Plos One, 2016, 11 (11): e0165475


doi: 10.1371/journal.pone.0165475
[8]

VROOMEN L G P H, PETRE E N, CORNELIS F H, et al Irreversible electroporation and thermal ablation of tumors in the liver, lung, kidney and bone: what are the differences?[J]. Diagnostic and Interventional Imaging, 2017, 98 (9): 609- 617


doi: 10.1016/j.diii.2017.07.007
[9]

SILK M T, WIMMER T, LEE K S, et al Percutaneous ablation of peribiliary tumors with irreversible electroporation[J]. Journal of Vascular and Interventional Radiology, 2014, 25 (1): 112- 118


doi: 10.1016/j.jvir.2013.10.012
[10]

MARTIN R C G, KWON D, CHALIKONDA S, et al Treatment of 200 locally advanced (stage Ⅲ) pancreatic adenocarcinoma patients with irreversible electroporation[J]. Annals of Surgery, 2015, 262 (3): 486- 494


doi: 10.1097/SLA.0000000000001441
[11]

GIRELLI R, FRIGERIO I, GIARDINO A Results of 100 pancreatic radiofrequency ablations in the context of a multimodal strategy for stage III ductal adenocarcinoma[J]. Langenbecks Archives of Surgery, 2013, 398 (1): 63- 69


doi: 10.1007/s00423-012-1011-z
[12]

MARTIN R C G, MCFARLAND K, ELLIS S, et al Irreversible electroporation in locally advanced pancreatic cancer: potential improved overall survival[J]. Annals of Surgical Oncology, 2013, 20: 443- 449


doi: 10.1245/s10434-012-2736-1
[13]

SIDDIQUI I A, KIRKS R C, LATOUCHE E L, et al High-frequency irreversible electroporation[J]. Surgical Innovation, 2017, 24 (3): 276- 283


doi: 10.1177/1553350617692202
[14]

WANG Y B, YIN S Y, ZHOU Y, et al Dual-function of baicalin in nsPEFs-treated hepatocytes and hepatocellular carcinoma cells for different death pathway and mitochondrial response[J]. International Journal of Medical Sciences, 2019, 16 (9): 1271- 1282


doi: 10.7150/ijms.34876
[15]

YIN S Y, CHEN X H, ZHANG X M, et al Nanosecond pulsed electric field (nsPEF) treatment for hepatocellular carcinoma: a novel locoregional ablation decreasing lung metastasis[J]. Cancer Letters, 2014, 346 (2): 285- 291


doi: 10.1016/j.canlet.2014.01.009
[16]

KLEIN N, GUNTHER E, MIKUS P, et al Single exponential decay waveform; a synergistic combination of electroporation and electrolysis (E2) for tissue ablation[J]. PeerJ, 2017, 5 (5): 96- 106

[17]

ZHANG Y, LYU C, LIU Y, et al Molecular and histological study on the effects of non-thermal irreversible electroporation on the liver[J]. Biochemical and Biophysical Research Communications, 2018, 500 (3): 665- 670


doi: 10.1016/j.bbrc.2018.04.132
[18]

YIN S Y, LIU Z, SHAHRIAR M A, et al Ultrastructural changes in hepatocellular carcinoma cells induced by exponential pulses of nanosecond duration delivered via a transmission line[J]. Bioelectrochemistry, 2020, 135: 107548


doi: 10.1016/j.bioelechem.2020.107548
[19]

CHANG D C, REESE T S, CHANG D C, et al Changes in membrane-structure induced by electroporation as revealed by rapid-freezing electron-microscopy[J]. Biophysical Journal, 1990, 58 (1): 1- 12


doi: 10.1016/S0006-3495(90)82348-1
[20]

CHEN W, LEE R C Altered ion channel conductance and ionic selectivity induced by large imposed membrane potential pulse[J]. Biophysical Journal, 1994, 67 (2): 603- 612


doi: 10.1016/S0006-3495(94)80520-X
[21]

姚陈果, 孙才新, 米彦, et al 陡脉冲不可逆性电击穿治疗肿瘤的研究[J]. 高电压技术, 2007, 33 (2): 7- 13




YAO Chen-guo, SUN Cai-xin, MI Yan, et al Study on the treatment of tumor by steep pulse irreversible electrical breakdown[J]. High Voltage Technology, 2007, 33 (2): 7- 13


doi: 10.3969/j.issn.1003-6520.2007.02.002