Fixed time trajectory tracking control for dual-arm space robot
Meng-qing HONG(

),Meng DING,Xiu-tao GU,Yu GUO*(

)
School of Automation, Nanjing University of Science and Technology, Nanjing 210094, China
Abstract
For the trajectory tracking problem of the dual-arm space robot, a fixed-time nonsingular fast terminal sliding mode control strategy which was independent of the initial states was proposed, considering the convergence time of the tracking error was easily affected by the initial states of the system. Firstly, based on fixed-time stability theory, an improved fixed-time nonsingular fast terminal sliding mode surface was designed, which not only solved the singularity problems in terminal sliding mode control, but also guaranteed fast convergence rate of the tracking error whether it was away from or close to the origin. In order to weaken the chattering phenomenon of the sliding mode control and improve the convergence rate of reaching phase, an improved fixed-time reaching law was proposed. The fixed-time stability of the closed-loop system was proved by Lyapunov theory. The dual-arm space robot was taken as the controlled object for comparative simulation, and the results confirmed the higher control accuracy, faster convergence rate and better robustness of the proposed control strategy.
Received: 11 March 2022 Published: 30 June 2022
Fund: 国家自然科学基金资助项目(61973167,61773211);江苏省研究生科研与实践创新计划项目(KYCX21_0321)
Corresponding Authors: Yu GUO E-mail: mqhong@njust.edu.cn;guoyu@njust.edu.cn
双臂空间机器人的固定时间轨迹跟踪控制
针对双臂空间机器人轨迹跟踪控制问题,考虑系统跟踪误差收敛时间易受初始状态影响,提出与初始状态无关的固定时间非奇异快速终端滑模控制策略. 基于固定时间稳定性理论,设计改进的固定时间非奇异快速终端滑模面. 该滑模面解决了终端滑模控制的奇异问题,使得系统跟踪误差在远离、接近原点时均有较快的收敛速度. 为了削弱滑模控制存在的抖振现象和提高趋近阶段的收敛速度,提出改进的固定时间趋近律,应用李雅普诺夫理论证明闭环系统的固定时间稳定. 以双臂空间机器人为被控对象进行对比仿真,结果表明,所提控制策略具有更高的控制精度、更快的收敛速度和更强的鲁棒性.
关键词: 双臂空间机器人, 轨迹跟踪, 固定时间收敛, 非奇异快速终端滑模, 收敛速度
Fig.1
Model of dual-arm space robotic system

Tab.1
Mass property parameters of dual-arm space robot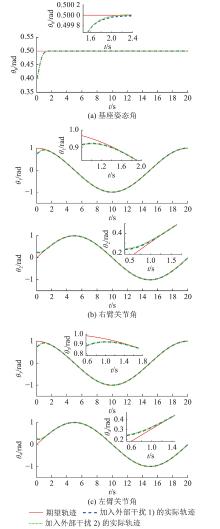 Fig.2
Trajectory tracking of dual-arm space robot system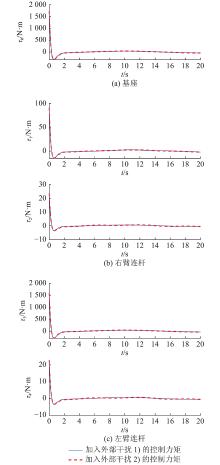 Fig.3
Control torque of dual-arm space robot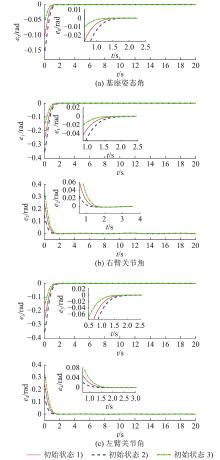 Fig.4
Convergence time under different initial states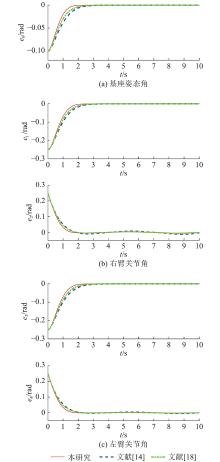 Fig.5
Convergence time under different fixed-time controllers
[1]

WANG M, LUO J, WALTER U Trajectory planning of free-floating space robot using particle swarm optimization (PSO)[J]. Acta Astronautica, 2015, 112: 77- 88


doi: 10.1016/j.actaastro.2015.03.008
[2]

徐文福, 王学谦, 薛强, 等 保持基座稳定的双臂空间机器人轨迹规划研究[J]. 自动化学报, 2013, 39 (1): 69- 80




XU Wen-fu, WANG Xue-qian, XUE Qiang, et al Study on trajectory planning of dual-arm space robot keeping the base stabilized[J]. Acta Automatica Sinica, 2013, 39 (1): 69- 80


doi: 10.1016/S1874-1029(13)60008-7
[3]

YANG S, WEN H, JIN D Trajectory planning of dual-arm space robots for target capturing and base manoeuvring[J]. Acta Astronautica, 2019, 164: 142- 151


doi: 10.1016/j.actaastro.2019.08.004
[4]

闫磊. 双臂空间机器人系统等效建模及协调柔顺控制研究 [D]. 哈尔滨: 哈尔滨工业大学, 2019: 31-35.




YAN Lei. Equivalent modelling and coordinated compliance control of dual-arm space robot [D]. Harbin: Harbin Institute of Technology, 2019: 31-35.

[5]

夏鹏程, 罗建军, 王明明 空间双臂机器人抓捕翻滚目标后的鲁棒稳定控制[J]. 力学学报, 2021, 53 (4): 1138- 1155




XIA Peng-cheng, LUO Jian-jun, WANG Ming-ming A roubst stabilization control for dual-arm space robot capturing tumbling target[J]. Chinese Journal of Theoretical and Applied Mechanics, 2021, 53 (4): 1138- 1155


doi: 10.6052/0459-1879-20-449
[6]

朱安, 陈力 配置柔顺机构空间机器人双臂捕获卫星操作力学模拟及基于神经网络的全阶滑模避撞柔顺控制[J]. 力学学报, 2019, 51 (4): 1156- 1169




ZHU An, CHEN Li Mechanical simulation and full order sliding mode collision avoidance compliant control based on neural network of dual-arm space robot with compliant mechanism capturing satellite[J]. Chinese Journal of Theoretical and Applied Mechanics, 2019, 51 (4): 1156- 1169


doi: 10.6052/0459-1879-18-407
[7]

SHI L, JAYAKODY H, KATUPITIYA J, et al Coordinated control of a dual-arm space robot: novel models and simulations for robotic control methods[J]. IEEE Robotics and Automation Magazine, 2018, 25 (4): 86- 95


doi: 10.1109/MRA.2018.2864717
[8]

YAN L, XU W, HU Z, et al Multi-objective configuration optimization for coordinated capture of dual-arm space robot[J]. Acta Astronautica, 2020, 167: 189- 200


doi: 10.1016/j.actaastro.2019.11.002
[9]
LIU H, TIAN X, WANG G, et al Finite-time H ∞ control for high-precision tracking in robotic manipulators using backstepping control [J]. IEEE Transactions on Industrial Electronics, 2016, 63 (9): 5501- 5513
doi: 10.1109/TIE.2016.2583998
[10]

SHEN D, TANG L, HU Q, et al Space manipulator trajectory tracking based on recursive decentralized finite-time control[J]. Aerospace Science and Technology, 2020, 102: 105870


doi: 10.1016/j.ast.2020.105870
[11]

POLYAKOV A Nonlinear feedback design for fixed-time stabilization of linear control systems[J]. IEEE Transactions on Automatic Control, 2012, 57 (8): 2106- 2110


doi: 10.1109/TAC.2011.2179869
[12]

ZHANG J, YU S, YAN Y, et al Fixed-time output feedback sliding mode tracking control of marine surface vessels under actuator faults with disturbance cancellation[J]. Applied Ocean Research, 2020, 104: 102378


doi: 10.1016/j.apor.2020.102378
[13]

ZUO Z Non-singular fixed-time terminal sliding mode control of non-linear systems[J]. IET Control Theory and Applications, 2015, 9 (4): 545- 552


doi: 10.1049/iet-cta.2014.0202
[14]

NI J, LIU L, LIU C, et al Fast fixed-time nonsingular terminal sliding mode control and its application to chaos suppression in power system[J]. IEEE Transactions on Circuits and Systems II: Express Briefs, 2017, 64 (2): 151- 155


doi: 10.1109/TCSII.2016.2551539
[15]

黄登峰, 陈力 漂浮基双臂空间机器人系统协调运动的模糊小波神经网络控制[J]. 中国机械工程, 2011, 22 (13): 1591- 1596




HUANG Deng-feng, CHEN Li Fuzzy wavelet neural network control for coordinated motion of a free-floating dual-arm space robot[J]. China Mechanical Engineering, 2011, 22 (13): 1591- 1596

[16]

JIANG B, HU Q, FRISWELL M Fixed-time attitude control for rigid spacecraft with actuator saturation and faults[J]. IEEE Transactions on Control Systems Technology, 2016, 24 (5): 1892- 1898


doi: 10.1109/TCST.2016.2519838
[17]

WANG Y, ZHU K, YAN F, et al Adaptive super-twisting nonsingular fast terminal sliding mode control for cable-driven manipulators using time-delay estimation[J]. Advances in Engineering Software, 2019, 128: 113- 124


doi: 10.1016/j.advengsoft.2018.11.006
[18]

田野, 蔡远利, 邓逸凡 一种快速收敛的固定时间非奇异终端滑模控制方法[J]. 中国惯性技术学报, 2020, 28 (5): 677- 685




TIAN Ye, CAI Yuan-li, DENG Yi-fan A fast-nonsingular terminal sliding mode control method with fixed-time stability guarantees[J]. Journal of Chinese Inertial Technology, 2020, 28 (5): 677- 685