| | | |
| --- | --- | --- |
| Mechanical and Energy Engineering | | |
Adaptive design of shield radius for open type hard rock TBM
Yan-chao TIAN(
),Fei HE,Xiao ZHANG
China Railway Engineering Equipment Group Co. Ltd, Zhengzhou 450016, China
Abstract
The contact model of shield and tunnel was established in order to analyze the adaptive design of shield radius with tunnel radius for open type hard rock tunnel boring machine (TBM). The shield radius design method was proposed based on the change law of the gap between shield and tunnel, considering finite element analysis of mechanical properties and actual working conditions. Results show that the gap between shield and minimum tunnel at the bottom should be 5 to10 mm. At the horizontal location, the shield should be tangent to the tunnel. The radius of shield is decided by both the minimum and the maximum tunnel radius. The radius of roof shied should be 30 to 50 mm smaller than the designed tunnel radius. The maximum gap between shied and tunnel is positively correlated with the radius difference between them, which is affected by tunnel radius. The bottom shied should be contact with the minimum tunnel radius in the bottom, and the bottom shied radius should be 15 to 50 mm smaller than the designed tunnel radius.
Received: 22 October 2018 Published: 17 December 2019
敞开式TBM护盾半径适应性设计
为了研究敞开式岩石隧道掘进机(TBM)护盾半径与开挖洞径的适应性问题,建立护盾与洞壁接触理论模型;基于护盾与洞壁接触间隙的变化规律,结合有限元力学性能分析和实际工况,提出护盾半径的设计方法. 结果表明:底侧护盾最下部应与最小洞壁保持5~10 mm的间隙,在水平位置附近与洞壁相切接触,护盾半径由开挖洞径上、下限共同决定;顶护盾的设计半径应比隧洞开挖半径小30~50 mm,其和洞壁的最大间隙与两者的半径差呈正相关关系,受开挖洞径大小影响微小;底护盾半径设计应保证护盾底部与最小开挖洞壁底部接触,护盾半径应比隧洞开挖半径小15~50 mm.
关键词: 岩石隧道掘进机(TBM), 护盾, 隧洞半径, 半径设计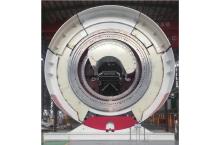 Fig.1
Shields of open type tunnel boring machine(TBM)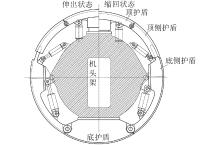 Fig.2
Diagram of shields in different expansion states
Tab.1
Statistics of shields' radius from some projects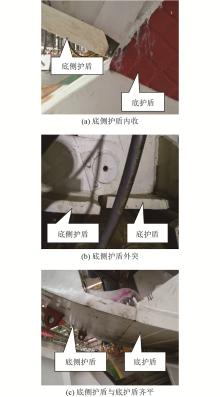 Fig.3
Different installation locations between side shield and bottom shield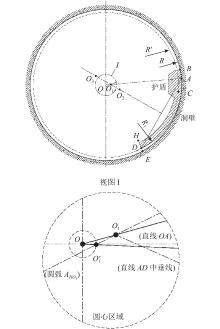 Fig.4
Simplified movement model of side shield
Fig.5
Different contact states of side shield and tunnel surface
Fig.6
Diagram of gap between side shield and tunnel surface
Fig.7
Gap between shield and tunnel changing with location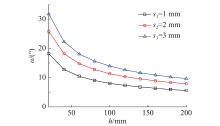 Fig.8
Curve of location angle for specific gap
Tab.2
Parameter of contact model for side shield and tunnel
Fig.9
Finite element analysis model of contact between side shield and tunnel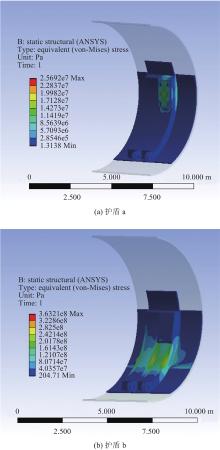 Fig.10
Stress nephograms of action between tunnel and shield with different radius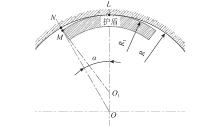 Fig.11
Schematic diagram of contact between roof shield and tunnel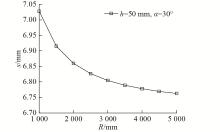 Fig.12
Curve of gap between shield and tunnel changing with shield radius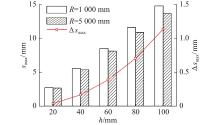 Fig.13
Comparison of gap between shield and tunnel for different tunnel radius
[1]

JIANG Q, SU G S, FENG X T, et al Observation of rock fragment ejection in post-failure response[J]. International Journal of Rock Mechanics and Mining Sciences, 2015, 74: 30- 37


doi: 10.1016/j.ijrmms.2014.11.007
[2]

HUANG X, LIU Q, SHI K, et al Application and prospect of hard rock TBM for deep roadway construction in coal mines[J]. Tunnelling and Underground Space Technology, 2018, 73: 105- 126


doi: 10.1016/j.tust.2017.12.010
[3]

夏毅敏, 钱聪, 李正光, 等 隧道掘进机支撑推进系统振动特性[J]. 浙江大学学报: 工学版, 2018, 52 (2): 233- 239




XIA Yi-min, QIAN Cong, LI Zheng-guang, et al Vibration characteristics of TBM supporting-thrusting system[J]. Journal of Zhejiang University: Engineering Science, 2018, 52 (2): 233- 239

[4]

HONG E S, LEE I M, SHIN H S, et al Quantitative risk evaluation based on event tree analysis technique: application to the design of shield TBM[J]. Tunnelling and Underground Space Technology, 2009, 24 (3): 269- 277


doi: 10.1016/j.tust.2008.09.004
[5]

刘统, 龚国芳, 彭左, 等 基于液压变压器的TBM刀盘混合驱动系统[J]. 浙江大学学报: 工学版, 2016, 50 (3): 419- 427




LIU Tong, GONG Guo-fang, PENG Zuo, et al Hybrid cuttehead driving system for TBM based on hydraulic transformer[J]. Journal of Zhejiang University: Engineering Science, 2016, 50 (3): 419- 427

[6]

XIA Y M, LIN L K, WU D, et al Geological adaptability matching design of disc cutter using multicriteria decision making approaches[J]. Journal of Central South University, 2018, 25 (4): 843- 854


doi: 10.1007/s11771-018-3788-6
[7]

程永亮, 钟掘, 暨智勇, 等 TBM刀盘地质适应性设计方法及其应用[J]. 机械工程学报, 2018, 54 (1): 1- 9




CHENG Yong-liang, ZHONG Jue, JI Zhi-yong, et al Geological adaptive design method and application of TBM cutterhead[J]. Journal of Mechanical Engineering, 2018, 54 (1): 1- 9

[8]

尚彦军, 史永跃, 曾庆利, 等 昆明上公山隧道复杂地质条件下TBM卡机及护盾变形问题分析和对策[J]. 岩石力学与工程学报, 2005, 24 (1): 3858- 3863




SHANG Yan-jun, SHI Yong-yue, ZENG Qing-li, et al TBM jamming and deformation in complicated geological condition and engineering measures[J]. Chinese Journal of Rock Mechanics and Engineering, 2005, 24 (1): 3858- 3863

[9]

YAZDANI-CHAMZINI A, YAKHCHALI S H Tunnel boring machine (TBM) selection using fuzzy multicriteria decision making methods[J]. Tunnelling and Underground Space Technology Incorporating Trenchless Technology Research, 2012, 30 (4): 194- 204

[10]

CHO S H, KIM J, WON J, et al Effects of jack force and construction steps on the change of lining stresses in a TBM tunnel[J]. KSCE Journal of Civil Engineering, 2017, 21 (4): 1- 12

[11]

夏毅敏, 林赉贶, 贺飞, 等 盘形滚刀刀圈结构地质适应性设计方法[J]. 机械工程学报, 2018, 54 (1): 10- 17




XIA Yi-min, LIN Lai-kuang, HE Fei, et al Geological adaptability design method of disc cutter ring[J]. Journal of Mechanical Engineering, 2018, 54 (1): 10- 17

[12]

ZHOU H, GAO Y, ZHANG C, et al A 3D model of coupled hydro-mechanical simulation of double shield TBM excavation[J]. Tunnelling and Underground Space Technology, 2018, 71: 1- 14


doi: 10.1016/j.tust.2017.07.012
[13]

MARINOS V, STOUMPOS G, PAPOULI D, et al Selection of TBM and geotechnical assessment of a microtunnel in a difficult geological environment: a case of a natural gas pipeline beneath an active landslide (Albania)[J]. Bulletin of Engineering Geology and the Environment, 2018, (2014): 1- 19

[14]

HASANPOUR R, ROSTAMI J, ?Z?ELIK Y Impact of overcut on interaction between shield and ground in the tunneling with a double-shield TBM[J]. Rock Mechanics and Rock Engineering, 2016, 49 (5): 2015- 2022


doi: 10.1007/s00603-015-0823-x
[15]

程建龙, 杨圣奇, 李学华, 等 位移释放率对双护盾TBM护盾压力的影响研究[J]. 岩土力学, 2016, 37 (5): 1399- 1407




CHENG Jian-long, YANG Sheng-qi, LI Xue-hua, et al Impact of longitudinal displacement profile relaxation on contract force acted on double shield TBM in squeezing ground[J]. Rock and Soil Mechanics, 2016, 37 (5): 1399- 1407

[16]

刘泉声, 黄兴, 时凯, 等 超千米深部全断面岩石掘进机卡机机理[J]. 煤炭学报, 2013, 38 (1): 78- 84




LIU Quan-sheng, HUAN Xing, SHI Kai, et al Jamming mechanism of full face tunnel boring machine in over thousand-meter depths[J]. Journal of China Coal Society, 2013, 38 (1): 78- 84

[17]

刘泉声, 彭星新, 黄兴, 等 全断面隧道掘进机护盾受力监测及卡机预警[J]. 岩土力学, 2018, 39 (9): 3406- 3414




LIU Quan-sheng, PENG Xing-xin, HUAN Xing, et al Monitoring shield stress of tunnel boring machine and jamming warning[J]. Rock and Soil Mechanics, 2018, 39 (9): 3406- 3414