Analysis of electromagnetic noise of permanent magnet synchronous motor based on multi-directional electromagnetic force
Yu WANG(
),Zhi-yong HAO,Kang ZHENG*(
),Xu ZHENG,Yi QIU
College of Energy Engineering, Zhejiang University, Hangzhou 310027, China
Abstract
In motor electromagnetic noise analysis, the main focus is the radial electromagnetic force and other electromagnetic force components are ignored, which causes the analysis to be inaccurate. The electromagnetic simulation was conducted aiming at the problem to analyze the magnetic field and electromagnetic force distribution of 8-pole 24-slot permanent magnet synchronous drive motor. Radial electromagnetic force alone and radial, tangential and axial electromagnetic forces were respectively applied on the stator model of the motor in order to analyze the electromagnetic noise. The electromagnetic noise of the motor was calculated by the boundary element method, and the accuracy of the simulation analysis was verified by experiments. The parameterized structural model of the motor was established, and the influence of different stator slot widths and magnet fillet radii on radial, and tangential electromagnetic force and electromagnetic noise was analyzed. The results show that the tangential electromagnetic force has a certain effect on the electromagnetic noise, and the motor stator model loaded with radial, tangential and axial electromagnetic forces is more reliable. Reasonable reduction of stator slot width and magnet fillet radius can effectively reduce electromagnetic noise of the motor.
Received: 18 October 2019 Published: 31 December 2020
Corresponding Authors: Kang ZHENG E-mail: yohellodream@zju.edu.cn;barton1212@sina.com
基于多向电磁力的永磁同步电机电磁噪声分析
针对电机电磁噪声分析中主要关注径向电磁力而忽略电磁力分量,造成分析精度不准确的问题,对某8极24槽车用永磁同步驱动电机进行电磁仿真分析,得到电机磁场以及电磁力分布. 在电机定子模型上分别单独加载径向电磁力和综合加载径向、切向及轴向三向电磁力,对比分析电磁噪声. 采用边界元法计算电机电磁噪声,通过试验验证仿真分析的准确性. 建立电机参数化结构模型,分析不同定子槽口宽度和磁体圆角半径对径向和切向电磁力以及电磁噪声的影响. 结果表明,切向电磁力对电磁噪声有一定程度的影响,且加载径向、切向及轴向电磁力的电机定子模型更加真实可靠;合理减小定子槽宽和磁铁圆角半径可以有效降低电机电磁噪声.
关键词: 永磁同步电机, 电磁力, 电磁噪声, 定子槽口宽度, 磁体圆角半径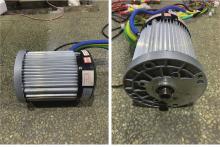 Fig.1
Permanent magnet synchronous drive motor for vehicle
Tab.1
Motor structure parameters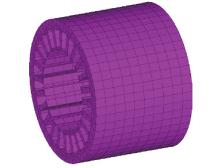 Fig.2
Finite element model of motor stator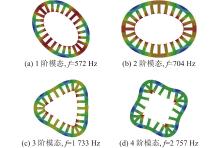 Fig.3
First four modes of motor modal simulation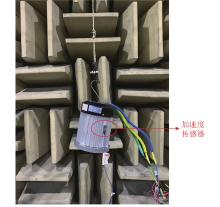 Fig.4
Free-mode test of motor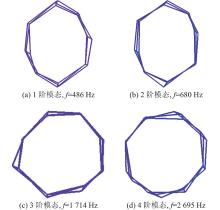 Fig.5
First four modes of motor modal test
Fig.6
Electromagnetic simulation model of permanent magnet synchronous motor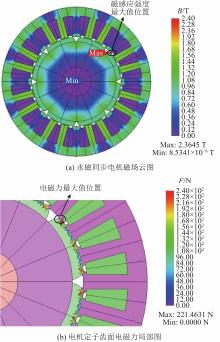 Fig.7
Electromagnetic simulation results of permanent magnet synchronous motor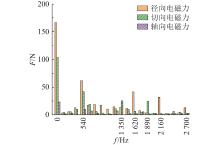 Fig.8
Spectrogram of electromagnetic force amplitude of motor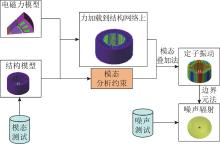 Fig.9
Motor electromagnetic noise simulation analysis process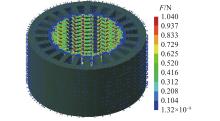 Fig.10
Electromagnetic force distribution on stator tooth surface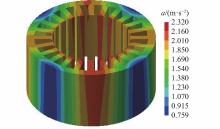 Fig.11
Vibration acceleration cloud map of permanent magnet synchronous motor under 720 Hz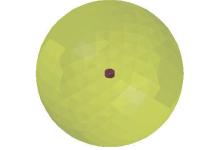 Fig.12
Schematic diagram of sound field of motor
Fig.13
Sound pressure level cloud map of motor under 1800 Hz
Fig.14
Electromagnetic noise spectrum of motor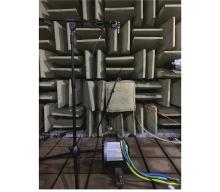 Fig.15
Motor noise test
Fig.16
Comparison of simulation and test motor noise results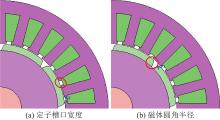 Fig.17
Parameterized model of stator slot width and magnet fillet radius of permanent magnet synchronous motor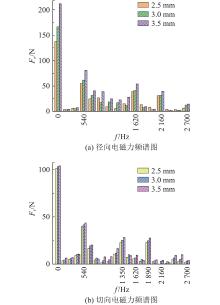 Fig.18
Radial and tangential electromagnetic force spectrum of stator slot widths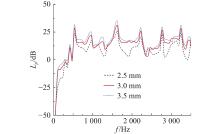 Fig.19
Electromagnetic noise spectrum of different stator slot width motors
Fig.20
Radial and tangential electromagnetic force spectrum of different magnet fillet radius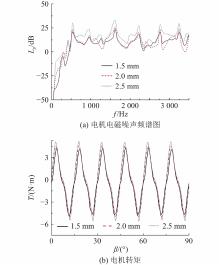 Fig.21
Electromagnetic noise spectrum and motor torque of different magnet fillet radius motors
[1]

左曙光, 刘晓璇, 于明湖, 等 永磁同步电机电磁振动数值预测与分析[J]. 电工技术学报, 2017, 32 (1): 159- 167




ZUO Shu-guang, LIU Xiao-xuan, YU Ming-hu, et al Numerical prediction and analysis of electromagnetic vibration in permanent magnet synchronous motor[J]. Transactions of China Electrotechnical Society, 2017, 32 (1): 159- 167

[2]

杨浩东, 陈阳生 分数槽永磁同步电机电磁振动分析与抑制[J]. 中国电机工程学报, 2011, 31 (24): 83- 89




YANG Hao-dong, CHEN Yang-sheng Electromagnetic vibration analysis and suppression of permanent magnet synchronous motor with fractional slot combination[J]. Proceedings of the CSEE, 2011, 31 (24): 83- 89

[3]

IALAM R, HUSAIN I Analytical model for predicting noise and vibration in permanent-magnet synchronous motors[J]. IEEE Transactions on Industry Applications, 2010, 46 (6): 2346- 2354


doi: 10.1109/TIA.2010.2070473
[4]

YANG H, CHEN Y Influence of radial force harmonics with low mode number on electromagnetic vibration of PMSM[J]. IEEE Transactions on Energy Conversion, 2014, 29 (1): 38- 45


doi: 10.1109/TEC.2013.2290304
[5]

BESNERAIS L J Vibroacoustic analysis of radial and tangential air-gap magnetic forces in permanent magnet synchronous machines[J]. IEEE Transactions on Magnetics, 2015, 51 (6): 1- 9

[6]

李全峰, 黄苏融, 黄厚佳 不等极弧结构永磁同步电机噪声和转矩特性[J]. 浙江大学学报: 工学版, 2018, 52 (11): 173- 180




LI Quan-feng, HUANG Su-rong, HUANG Hou-jia Noise and torque characteristics of permanent magnet synchronous motor with unequal pole arc structure[J]. Journal of Zhejiang University: Engineering Science, 2018, 52 (11): 173- 180

[7]

于慎波, 姜菲菲, 王辉, 等 永磁同步电主轴分数槽电机的径向电磁力分析[J]. 组合机床与自动化加工技术, 2014, (6): 15- 18




YU Shen-bo, JIANG Fei-fei, WANG Hui, et al Analysis of radial electromagnetic force of fractional slot motor for permanent magnet synchronous motorized spindle[J]. Combined Machine Tool and Automatic Machining Technology, 2014, (6): 15- 18

[8]

左曙光, 林福, 孙庆, 等 极槽配合和绕组层数对永磁同步电机振动的影响分析[J]. 振动与冲击, 2014, 33 (13): 130- 134




ZUO Shu-guang, LIN Fu, SUN Qing, et al Vibration of permanent magnet synchronous motor with different slot-pole combinations and winding layers[J]. Journal of Vibration and Shock, 2014, 33 (13): 130- 134

[9]

MICHON M, HOLEHOUSE R C, ATALLAH K, et al Effect of rotor eccentricity in large synchronous machines[J]. IEEE Transactions on Magnetics, 2014, 50 (11): 1- 4

[10]
SALON S, ERGENE L T. Design and construction of a low-vibration low-leakage field motor [C]// XXI International Conference on Electrical Machines. [S.l.]: IEEE, 2014: 464-469.
[11]

徐珂, 应红亮, 黄苏融, 等 转子分段斜极对永磁同步电机电磁噪声的削弱影响[J]. 浙江大学学报: 工学版, 2019, 53 (11): 2248- 2254




XU Ke, YING Hong-liang, HUANG Su-rong, et al Electromagnetic noise reduction of permanent magnet synchronous motor by step-skewed rotor[J]. Journal of Zhejiang University: Engineering Science, 2019, 53 (11): 2248- 2254

[12]

柳刚, 于冰, 谭亲目, 等 永磁同步电机转子结构对振动噪声影响的分析[J]. 机械制造, 2019, 57 (9): 35- 38




LIU Gang, YU Bing, TAN Qin-mu, et al Analysis of the influence of rotor structure of PMSM on vibration and noise[J]. Machinery, 2019, 57 (9): 35- 38


doi: 10.3969/j.issn.1000-4998.2019.09.012
[13]

王晓远, 贺晓钰, 高鹏 电动汽车用V型磁钢转子永磁电机的电磁振动噪声削弱方法研究[J]. 中国电机工程学报, 2019, 39 (16): 4919- 4926




WANG Xiao-yuan, HE Xiao-yu, GAO Peng Research on electromagnetic vibration and noise reduction method of V type magnet rotor permanent magnet motor electric vehicles[J]. Proceedings of the CSEE, 2019, 39 (16): 4919- 4926

[14]

刘小华, 莫崇卫, 蒋帅, 等 某纯电动汽车驱动电机噪声分析与优化[J]. 噪声与振动控制, 2019, 39 (5): 68- 72




LIU Xiao-hua, MO Chong-wei, JIANG Shuai, et al Analysis and optimization of the driving motor noise of a battery electric vehicle[J]. Noise and Vibration Control, 2019, 39 (5): 68- 72


doi: 10.3969/j.issn.1006-1355.2019.05.013
[15]

林巨广, 吴梦 基于模态分析的永磁同步电机噪声研究[J]. 机械设计, 2020, 37 (3): 33- 38




LIN Ju-guang, WU Meng Research on the noise of permanent magnet synchronous motors based on the modal analysis[J]. Journal of Machine Design, 2020, 37 (3): 33- 38

[16]

张欣, 李璞, 祝丽花, 等 电机旋转磁场中磁致伸缩导致的振动频率特性[J]. 电机与控制学报, 2020, 24 (2): 87- 95




ZHANG Xin, LI Pu, ZHU Li-hua, et al Frequency characteristics of vibration caused by magnetostriction in a rotating magnetic field of a motor[J]. Electric Machines and Control, 2020, 24 (2): 87- 95

[17]

张长庚, 杨庆新, 李永建 硅钢叠片在宽频三轴正交激磁条件下的磁特性模拟方法研究[J]. 中国电机工程学报, 2017, 37 (7): 2167- 2176




ZHANG Chang-geng, YANG Qing-xin, LI Yong-jian An electromagnetism simulation methodology of laminated silicon steel by three axes orthogonal and wide frequency excitation[J]. Proceedings of the CSEE, 2017, 37 (7): 2167- 2176

[18]

王维, 张军, 周维超 某乘用车发电机性能开发与NVH控制[J]. 汽车技术, 2015, (5): 21- 24




WANG Wei, ZHANG Jun, ZHOU Wei-chao Development and control of vehicle alternator NVH performance[J]. Automobile Technology, 2015, (5): 21- 24


doi: 10.3969/j.issn.1000-3703.2015.05.006