Mechanism synthesis and kinematic analysis of 4-DOF minimally invasive surgical instrument
Kun LI1(

),Ji-hua LI1,Lei LI1,Yue ZHUO1,Bo PAN2,Yi-li FU2
1. School of Mechanical and Electronic Engineering, Shandong Jianzhu University, Jinan 250101, China
2. State Key Laboratory of Robotics and System, Harbin Institute of Technology, Harbin 150080, China
Abstract
Taking the grasper as an example, a 4-DOF minimally invasive surgical (MIS) instrument driven by servo motors and transmitted by cables was designed. Miniaturization design of the end of surgical instrument was driven by cables suitable for long distance transmission, which improved the dexterity of the surgical instrument working in narrow space. Mechanism principle and dimensional synthesis including the wrist, grasper and shaft rolling were described. Working principle of the cable-capstan transmission mechanism and kinematic coupling between the wrist and grasper were analyzed. Kinematic characteristic of the surgical instrument including forward kinematics, working space analysis, Jacobian transformation, and singularity analysis were described. A prototype of the surgical instrument and driving platform testing shows that the instrument prototype can be applied in most MIS operations.
Received: 13 March 2022 Published: 30 June 2022
Fund: 山东建筑大学博士科研基金资助项目(XNBS1619);山东省重点研发计划(公益类)资助项目(2019GGX104056)
四自由度微创手术器械的机构综合及运动学分析
以夹持器为例,设计由伺服电机驱动和钢丝线轮传动的四自由度微创手术器械. 手术器械末端采用微型化设计,以适于远距离传动的钢丝驱动,改善手术器械在狭窄工作空间中的灵活度. 描述手术器械的构型原理和尺度设计,包括腕部、夹钳和器械轴;分析钢丝线轮传动机构的工作原理及腕部与夹钳的运动耦合. 研究手术器械的运动学特性,包括运动学正解、工作空间分析、速度雅克比变换和奇异性分析. 测试手术器械和驱动平台的原理样机表明,该器械能够满足微创手术相关技术操作的要求.
关键词: 微创手术机器人, 手术器械, 机构综合, 运动学分析, 器械样机

Fig.1
Operation mode of minimally invasive surgical instrument

Fig.2
Mechanism diagram of rotatory wrist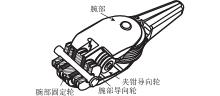 Fig.3
Mechanism design of rotatory wrist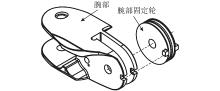 Fig.4
Assembly of wrist and wrist fixed wheel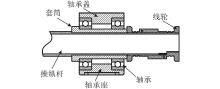 Fig.5
Rolling mechanism of surgical shaft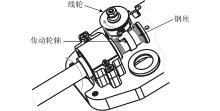 Fig.6
Transmission system of surgical shaft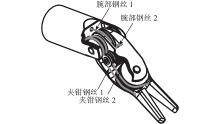 Fig.7
Cables applied to drive instrument end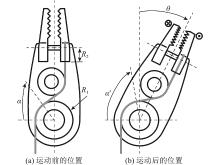 Fig.8
Kinematic coupling between wrist and graspers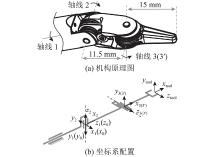 Fig.9
Mechanism diagram and joint coordinates of surgical instrument

Tab.1
Modified D-H parameters of surgical instrument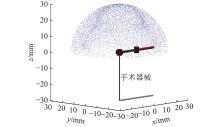 Fig.10
Model and workspace of surgical instrument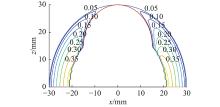 Fig.11
Manipulability in workspace of surgical instrument

Fig.12
Prototype of surgical instrument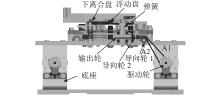 Fig.13
Transmission system of driving platform
Fig.14
Prototype of driving platform

Fig.15
Assembly of surgical instrument and driving platform
[1]

TONUTTI M, ELSON D S, YANG G Z, et al The role of technology in minimally invasive surgery: state of the art, recent developments and future directions[J]. Postgraduate Medical Journal, 2017, 93: 159- 167


doi: 10.1136/postgradmedj-2016-134311
[2]

GUERRA F, COLETTA D, BASSO C D, et al Conventional versus minimally invasive hartmann takedown: a meta-analysis of the literature[J]. World Journal of Surgery, 2019, 43: 1820- 1828


doi: 10.1007/s00268-019-04962-8
[3]

SU H, MARIANI A, OVUR S E, et al Toward teaching by demonstration for robot-assisted minimally invasive surgery[J]. IEEE Transactions on Automation Science and Engineering, 2021, 18 (2): 484- 494


doi: 10.1109/TASE.2020.3045655
[4]

CACCIANIGA G, MARIANI A, MOMI E D, et al An evaluation of inanimate and virtual reality training for psychomotor skill development in robot-assisted minimally invasive surgery[J]. IEEE Transactions on Medical Robotics and Bionics, 2020, 2 (2): 118- 129


doi: 10.1109/TMRB.2020.2990692
[5]

ALI S, JONMOHAMADI Y, TAKEDA Y, et al Supervised scene illumination control in stereo arthroscopes for robot assisted minimally invasive surgery[J]. IEEE Sensors Journal, 2021, 21 (10): 11577- 11587


doi: 10.1109/JSEN.2020.3037301
[6]

WANG H B, WANG S X, ZUO S Y Development of visible manipulator with multi-gear array mechanism for laparoscopic surgery[J]. IEEE Robotics and Automation Letters, 2020, 5 (2): 3090- 3097


doi: 10.1109/LRA.2020.2975722
[7]

SUN Y W, PAN B, FU Y L Lightweight deep neural network for real-time instrument semantic segmentation in robot assisted minimally invasive surgery[J]. IEEE Robotics and Automation Letters, 2021, 6 (2): 3870- 3877


doi: 10.1109/LRA.2021.3066956
[8]

GUTHART G S. About intuitive: helping people get back to what matters most [EB/OL]. (2021-12-31)[2022-04-23]. https://www.intuitive.com/en-us/about-us/company.

[9]
MINOR M, MUKHERJEE R. A dexterous manipulator for minimally invasive surgery [C]// Proceedings of the IEEE International Conference on Robotics and Automation. Detroit: IEEE, 1999: 2057-2064.
[10]
ARATA J, MITSUISHI M, WARISAWA S, et al. Development of a dexterous minimally invasive surgical system with augumented force feedback capability [C]// Proceedings of the IEEE/RSJ International Conference on Intelligent Robots and Systems. Edmonton: IEEE, 2005: 3207-3212.
[11]
GUTHART G S, SALISBURY J K. The intuitiveTM telesurgery system: overview and application [C]// Proceedings of IEEE International Conference on Robotics and Automation. San Francisco: IEEE, 2000: 618-621.
[12]

李建民, 王树新, 张建勋, 等 微创手术机器人控制策略[J]. 天津大学学报, 2011, 44 (10): 884- 889




LI Jian-min, WANG Shu-xin, ZHANG Jian-xun, et al Control strategies of minimally invasive surgical robot[J]. Journal of Tianjin University, 2011, 44 (10): 884- 889

[13]

马如奇, 王志东, 董为, 等 一种新型机器人微创手术微器械的机构设计及运动学分析[J]. 机器人, 2013, 35 (4): 402- 409




MA Ru-qi, WANG Wei-dong, DONG Wei, et al Mechanism design and kinematics analysis of a micro instrument for robotic minimally invasive surgery[J]. Robot, 2013, 35 (4): 402- 409


doi: 10.3724/SP.J.1218.2013.00402
[14]

CHEN Y Y, WU B B, JIN J B, et al A variable curvature model for multi-backbone continuum robots to account for inter-segment coupling and external disturbance[J]. IEEE Robotics and Automation Letters, 2021, 6 (2): 1590- 1597


doi: 10.1109/LRA.2021.3058925